Saturday, May 4th, 2013
---
11:59 pm
- Saturday - "Sweetville"
"Will you be found wanting when the end of days is come, when judgement rains down upon us all? Or will you be preserved against the coming Apocalypse? Do not despair. I offer a way out. There is a different path ... Sweetville!" --- Mrs. Winifred Gillyflower ("The Crimson Horror")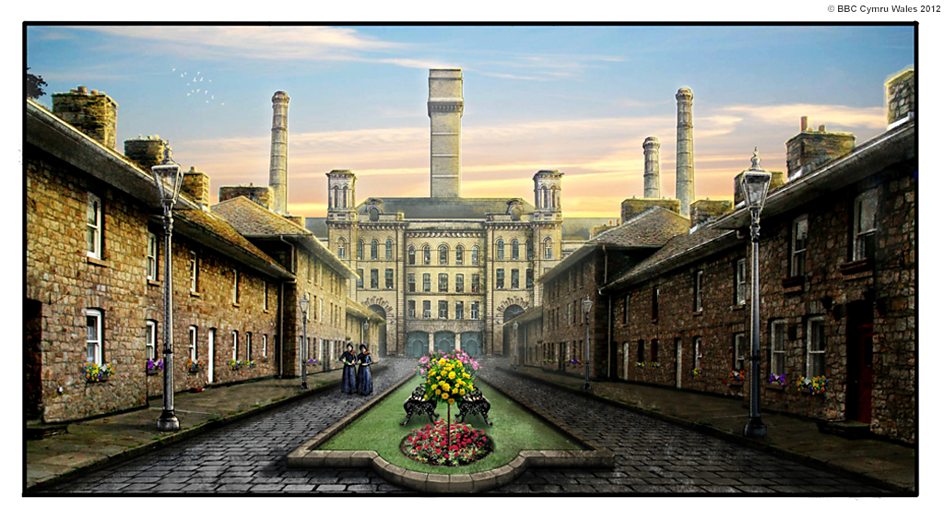 Sweetville


A slow day. Felt quite tried out. Another outbreak of rash is making life less comfortable. It could be stress-related, or maybe a new washing powder at the launderette. The rash started soon after I wore thermal vest that had been recently washed at the laundry. For dinner, we reheated the Cuban roast pork, and again marveled at how delicious it was. Nothing on TV, so started to view pre-recorded 'Dancing On The Edge' ("an explosive 1930s drama following a jazz band in London at a time of huge change"). Watched the first episode, 1.5 hours. Another 4.5 hours to go!

In other entertainment news, who can resist a chance to live in "Sweetville", a beautifully well-designed gated community for the beautiful and able-bodied, but the clue lies in the word "preserved"! And Mr. Sweet is anything but! Quite bonkers, but strangely captivating.
Friday, May 3rd, 2013
---
11:59 pm
- Council Elections - UKIP
[Posted 14:44 Monday 6th May 2013]

The big story is the huge surge of support in yesterday's local elections for UKIP, a party once described by David Cameron as one filled with "loonies, fruitcakes, and closet racists".

In an election in England and Wales where a third of council seats were contested, UKIP won 139 more seats, Labour boosted its number by nearly 300 (291 to be exact), and Lib Dems lost 124. The biggest losers were Conservatives with a loss of 335 seats, and control of 10 local councils. Labour gained control of 2 councils, and 8 councils became 'hung' ('No Overall Control'). In terms of share of the vote, UKIP, coming from nowhere, won nearly 1 in 4 votes, with 23%. "This is a sea change in British politics," said UKIP leader Nigel Faraj. Conservatives had 25%, Labour 29% and Lib Dems with a shockingly low 14%. Kevin McGuire commented, "The ground is shaken.. How big is the tremor, or will it die down later? …. No longer will we call UKIP 'others', they'll always there now in its own name on the counter sheets." On BBC's Election Special programme (5pm) Nigel Faraj said, "I think we've taken British politics, we've thrown it up in the air, we've taken votes from across the board and the result of this none of us can yet foresee. I would just say this - if the government and the opposition do not respond to our major concern on open door immigration in Europe, then 2015 [general election] who knows what might happen? One thing for certain - nothing will ever be the same again."

"Today we witnessed a very English revolt against the political establishment by a party once seen as little more than an anti-EU pressure group," reported BBC's Nick Robinson.


Channel 4 News - Friday 03 May 2013 UK Ukip local election surge: sea-change or flash in the pan?
Saturday, April 27th, 2013
---
11:59 pm
- Thatcheristic
[Updated 23:13 Saturday 4th May 2013]

Went to view 'Thatcheristic' exhibition at Gallery DIFFERENT located off Tottenham Court Road.



I'd heard about it on BBC London News the day we had Thatcher's funeral.



(

Read more...Collapse

)
Friday, April 26th, 2013
---
11:58 pm
- Friday
No cheap tomatoes from the wholesale greengrocer's. Never mind, there'll be loads soon when Summer gets underway. I'm looking forward to another season of tomato abundance. We make fresh tomato sauce (for bolognaise etc), and tomato juice. Checked up on Project Property Up-North. Progess is slow. In the evening. watched (Ep. 2 of) 'Ice Cream Girls' (ITV), a drama set in Brighton.
Thursday, April 25th, 2013
---
11:59 pm
- Warmest
Must have been the warmest day this year, judging by how little I needed to wear outside, and certainly no need for thermal underwear.



[Updated 15:59 Monday 29th April 2013] Yes, it sure was the warmest day - up to 22 degrees C in London. We had decided to look around the Southbank area, rather than an inner city park, because I figured there'd be a cooling river breeze there, and there was that.



(

Read more...Collapse

)
Wednesday, April 24th, 2013
---
1:10 pm
- Warm

[Updated 12:55 Monday 29th August 2013] Was not a good day. Weather was fine but G not so. Another clash this time re: a lunch appointment coming Friday, which G would go to, but without checking first whether there was anything we might do instead. I put it down to mental health issues. Later went out to look at some cherry blossoms. Unusually, I spotted not one but THREE urban grey squirrels running and leaping about the pavement and walls. Pretty sure it wasn't the same squirrel. Maybe we need to cull them.

I posted another photo of those wonderful Morris men, with the intention of updating all the pending entries on LJ. Never got round to it, as you can see, until today. (Getting there, I hope.)
Monday, April 22nd, 2013
---
11:59 pm
- Broadchurch
People seem to like Broadchurch (31,824 as I post). It's one of those where anyone could be a possible suspect. G suspected the one suspect which didn't appear to be suspected within the drama - and was proved right. I thought the priest did it, and got it wrong. Overall, the series was well executed, with great performances from the lead roles. But I was very disappointed with the ending. Will there be a second series? Hope so.

I would like the death penalty for that Chechen (American) terrorist murderer. I wish Chris Huhne and Vicky Pryce could have got life sentences for their crimes (perverting the course of justice). Sadly, they'll be out next month, and would have served only 25%of their 8 month jail term. (Not fair).

Still struggling to keep up with LJ. Last week was really filled with events, about which I have some more posts (to be posted retrospectively, soon) - namely, Baroness Thatcher's funeral (remember that?), and over the truly spring-like weekend, St. George's Day celebrations in Trafalgar Sqaure, and our great London sporting event, the London Marathon (where runners showed solidarity with Boston).
Sunday, April 21st, 2013
---
11:59 pm
- London Marathon 2013
[Updated 14:35 Saturday 27th April 2013]

Another beautiful day following on from yesterday for the London Marathon.



Everyone was enjoying themselves. At places, there was a street party atmosphere, with people cheering, dancing to live music, and drinking beer in the sunshine along the marathon route.



(

Read more...Collapse

)
Saturday, April 20th, 2013
---
11:59 pm
- St. George's Day at Trafalgar Square
[Updated 14:12 Saturday 27th April 2013]

And there he was this young boy
A stranger to my eyes
Strumming my pain with his fingers
Singing my life with his words

---- Killing Me Softly

Enjoyed beautiful sunshine and St. George's Day celebrations plus great guitar music, at Trafalgar Square.


(
Read more...
Collapse
)
Friday, April 19th, 2013
---
1:18 am
- Baroness Thatcher (State) Funeral (III)
This is my own account of that "moment in history".

[Updated 23:53 Friday 26th April 2013] The other reason people have given for being there, apart from 'participating in history', is the more noble one - wanting to show respect for a great PM. In my off line diary, I have attempted an account of some detail. Here, I will document one or two observations that stick in my mind.



We walked across Blackfriar's bridge to get to the edge of the procession route, at Ludgate Circus. I was a bit unsettled though not surprised, when a woman walking in the opposite direction sang under her breath, "Ding Dong the witch is dead" (the anthem of the vile Thatcher hate brigade). Why she chose to sing it at that moment, who knows. To annoy me? She couldn't possible have known I was a Thatcherite!



(

Read more...Collapse

)
Thursday, April 18th, 2013
---
11:59 pm
- Baroness Thatcher (State) Funeral (II)
"... we are all Thatcherites now" ---- David Cameron



Yesterday at St. Paul's Cathedral - Baroness Thatcher's coffin being carried out of St. Paul's Cathedral



"In a way" - we are, which is what David Cameron actually said. Thatcherism has been summed up in 5 words by Lord Saatchi as something that incorporates "free market, small state, low tax, individuality, self-determination" - the big ideas that have won the day through Lady Thatcher's stewardship. I for one am proud to be a Thatcherite. I think I'm also a Blairite (.. in a way) because I supported wholeheartedly our intervention (for the good) in Iraq. As an aside, I was disgusted to see (on TV) a poster held up by one of the idiot protesters at St. Paul's Cathedral which read (something like): "America did 9/11, 7/7 - for oil". That tells me all I need to know about the level of "intellect" we are dealing with here - i.e. non-existent!

In the end, I'm pleased to say, the event was overall respectful and "decorous", with no disturbance and not a single arrest made. Baroness Thatcher's coffin left St. Paul's cathedral to cheers and clapping. It was "a very British occasion" and "she would have liked that".



(

Read more...Collapse

)
Wednesday, April 17th, 2013
---
9:41 am
- Baroness Thatcher (State) Funeral
£10 million (spent mainly on security) for Baroness Thatcher's state funeral in all but name is darn good value, for the longest serving PM of the last century and our first woman PM - who SAVED the country. As Lord Carrington observed, "If you didn't like what she did, stay away." Well said. Let me translate, "If you didn't like what Margaret Thatcher did, STAY THE FUCK AWAY!" I'm going to try and get in line along the funeral procession route to pay my respects.
Monday, April 15th, 2013
---
11:59 pm
- Boston Exlposions
"Oh my god... they're DEAD!" ---- Man at the scene of the explosions at the finish line of the Boston Marathon

Whoever did this - how could they? It is a new low. I don't wish to be hearing such news, and watching scenes of mass suffering unfold on the TV. It cast a gloom over the evening. I considered our own London Marathon, which will take place this Sunday, and wondered how safe are we here.
Wednesday, April 10th, 2013
---
3:31 pm
- Parliament tribute to Baroness Thatcher
As reported, "Parliament has been specially recalled from the Easter recess to allow MPs and peers to pay tribute to Baroness Thatcher. David Cameron is leading the debate, but many Labour MPs are not attending the event."

It has so far been a very dignified debate, and charged with emotion especially on the Tory side (understandably). Now, I never thought I'd say this, but Ed Miliband's speech was excellent, struck just the right tone, respectful and dignified, but not denying that Labour's ideas clashed with hers. Notbaly though, Ed highlighted the fact that Thatcher was the first to draw attention to climate change, long before anyone thought of hugging a husky (a reference to David Cameron's attmepts at proving his green credentials). Shame on those Labour MPs who chose not to turn up. This isn't about petty party politics. It is a national occasion, to mark the passing of a remarkable prime minister. First and foremost, this really amounts to a tribute to our way of democracy (which Margaret Thatcher had the utmost respect for), but there is also the message of someone, a woman, and a grocer's daughter, who against all the odds, broke through all and the ultimate glass ceiling that she encountered in a male-dominated environment. There are also many major areas which Labour can agree with - i.e. "on the need for change in the economy, reducing state ownership, encouraging aspiration and in a strong foreign policy". Miliband also said she was right defend the Falklands.

Irksome today was the Hillsborough Family group declaring that any call for a minute's silence during football matches this weekend would be "an insult and a disgrace". How pathetic. I find that an insult and a disgrace. Don't tell me that none of the victims of Hillsborough nor their family were / are supporters of Margaret Thatcher. Furthermore, she never condoned a police whitewash on Hillsborough, in fact the contrary. On the Taylor report into the 1989 tragedy, she welcomed its "thoroughness and recommendations". This is an example of crass, blind hatred they direct towards a former prime minister, probably for other reasons as well. Hatred that they would not wish anyone to turn onto themselves, such as there might have been when people wrongly thought that Hillsborough victims were to blame for their own fate.

current mood:
blah
Monday, April 8th, 2013
---
1:24 pm
- Baroness Thatcher R.I.P.(1925-2013)
News just in that former PM Margeret Thatcher has died, aged 87, following a stroke.

According to the Guardian blog, AP reported at 12:54, "Baroness Thatcher died this morning following a stroke, her spokesman Lord Bell said. Lord Bell said: "It is with great sadness that Mark and Carol Thatcher announced that their mother Baroness Thatcher died peacefully following a stroke this morning. "A further statement will be made later."

By coincidence, we were watching the film about her "The Iron Lady" (where she was played by Meryl Streep) over the weekend. She was the ultimate "marmite" - you either hated her or loved her. I adored and admired her, for being such a great PM for the UK. I also saw her as a mother figure (although perhaps she wasn't such a good mother to her twins). Many people are unaware that she was deeply caring on a personal level, especially so towards her junior staff when she was PM. Sadly in recent years, she has been unwell, and not quite "with it" (as the film cruelly showed). I do find it quite sad that she ended her days suffering from some form of dementia.

Predictably and rightly so, the news channels (apart from Al-Jazeera, I note) are saturated with news of the death, and many political has-beens are coming out of the woodwork to comment. (Added 14:16) Nick Clegg, Deputy PM said (rather blandly), "Margaret Thatcher was one of the defining figures in modern British politics. Whatever side of the political debate you stand, there's no denying that she has left a unique and lasting influence on the country that she served." Tony Blair has said, "She was a towering political figure."

The PM, who will be cutting short his European tour, and returning to Downing Street, told BBC News, "As our first woman Prime Minister, Margaret Thatcher succeeded against all the odds, and the real thing about her, she didn't just lead our country, she saved our country. I believe she'll go down as the greatest British peace-time Prime Minister.

She will receive a ceremonial funeral with military honours at St. Paul's cathedral.

addendum As one of the Sky News presenters observed, the word that keeps cropping up is "towering".
Thursday, April 4th, 2013
---
11:59 pm
- nuclear strike
Woke up to this news - "North Korea says army has received final approval to launch ('merciless') nuclear strike on US". WTF? WHat has the USA done to deserve this? (Apart from voting in Obama... I don't recall any country threatening a nuke-kleeer strike against any other country under Bush's watch.) I think this shows how ineffective the Obama regime's "foreign policy" has been - from the Middle east to this axis of evil. A big 'F' grade. Furthermore, so much for the 'special relationship' - John Kerry can't even say that the US supports the right of the Falkland Islanders to decide that they want to remain British.
Sunday, March 24th, 2013
---
11:59 pm
- Sunday - R.E.D.
This 2010 movie, shown on Channel, was surprisingly good.


21:00 RED ("Retired and Extremely Dangerous") 135 mins Sunday 24 March Channel 4 (2010) Comedy thriller. Bruce Willis stars as a retired CIA hitman who knows too much about the Agency's skulduggery and is targeted for elimination. With Helen Mirren and Morgan Freeman.
Saturday, March 16th, 2013
---
11:28 pm
- Juergen Teller (III) "WOO"
Had the opportunity to pop in to the ICA to view "Woo" - the exhibition of Juergen Teller's work, which ends this Sunday.




Someone remarked (in German I think, but I could guess) that the pictures were like "magazine" pictures - which I thought was quite true. They do have a photo-shoot feel about them. I note several of them featured Charlotte Rampling, some with her face, looking somewhat bored, dangerously close to Juergen's penis e.g. the one which G thought might be a self-pubic shaving scene, when in fact it was an open tin of caviar placed on the pubic area, with a forlorn and disappointed-looking Charlotte Rampling nestled against his naked thigh. Perhaps the caviar wasn't Beluga.. Another shows her at the grand piano, with a naked Jeurgen on it, his anal region upturned and open, again a bit too dangerously close to her face, and nostrils. No naked flames, then!

On the walls of the ICA's compact Reading Room, were hundreds of pictures of various sizes - approximately those that could fit comfortably on a page within a glossy coffee table book - plastered in a somewhat orderly manner like a wall paper. People pored over them. Ladies (and gents) don't avert their gaze, I note, when confronted with full frontal nudity. Nobody bat an eyelid (except maybe me) at the range of female genitalia (including those of Vivienne Westwood, taken when she was aged 68) and flaccid male genitalia, many of the latter example being the photographer's own. There is one that could be mistaken for such, but I recall it from before, that I had convinced myself it was an elephant's tongue, close up. (I could be wrong).



(

Read more...Collapse

)
Thursday, March 14th, 2013
---
11:59 pm
- papa
"When the last king is hanged with the entrails of the last celibate priest, mankind may hope to be happy." -- La Bouche de fer (origin of the famous quote, often attributed to Denis Diderot)



Photo taken yesterday, in a Northern City


I like that concept (perhaps not the actual violence). Perhaps not applicable to our dearest QEII, but certainly all that religious bullshit and the drama of the white smoke is just something not for me. Having said that, I took in the news about the latest "papa" with mild amusement mixed with apathy, that this was the latest example of the "hand of God" helping an Argentinian (albeit one with Itlaian heritage - which could be a saving grace). His president was quick to spout that she hoped that "injustices" of the world could be righted under his papacy. She better watch out for that bolt of lightning that might strike her down (being the fount of the great injustice to the Falkland islanders). Furthermore, they colonised Argentina and according to what I heard, killed off the indigenous population - another injustice ... and I understand this pope is pro-colonisation of Falklands by Argentina (so, sadly - hardly a person that understands justice or the concpet of self-determination, and IMO another a-hole undeserving of respect already).

It is high time we focused on humanist values that are a force for good, instead of using the crutch of outdated and frankly insulting to the intelligence ideas of heaven and hell to force people to submit. But I suspect we're a long way off from that ideal.

Daffodils in the northern city not out yet. Not quite warm and sunny enough for that to happen.

I'm trying to "catch up" on LJ.
Tuesday, February 12th, 2013
---
11:59 pm
- Syria 70000 killed
The numbers killed, as I said, keeps going up. According to the UN, 70,000 killed so far, as reported on BBC News today. That number is "conservative", claims the war photographer Paul Conroy. And like I have said, the US is doing F*CK ALL! (As is the UN, and everyone else). We are led to believe work is being done "behind the scenes" to stop the massacres, but such work remains "behind the scenes" and seems utterly futile.

None - not one - of those 1 million who protested on the streets of London against the Iraq invasion are to be seen anywhere protesting about Syrians killed. Which tells me they cared less about potential war casualties in Iraq, than about being anti-Bush. All those people who said "we went into Iraq because of oil" must be scratching their heads why we haven't gone into oil-rich Syria. Sadly for Syrians we had election year in the US last year, when it has been argued, that that would have been the right time to intervene in Syria. But we had a spineless, callous president Obama unwilling to be seen to be going into another "war" with a muslim, middle-east nation. It's now too late, and too messy to try and help. As the jihadists gain control amongst the Syrian "rebel" opposition, if we did help, it could be seen as helping jihadists (it has been noted). On Newsnight, the Turkish Foreign Minister said that on average 100 civilians are killed in Syria by their own government, and that it wasn't anyone's right to just stand by and allow this to happen.

Where are those anti-war "human shields" - so ready to protect Iraqi civilians when we first threatened the late and well-rid-off Saddam - when we need them in Syria?
---